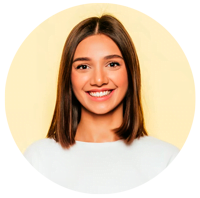 Dental Tourism, Patient Reviews
Check out these top smiles awesome reviews from our happy patients who got their veneers done in Colombia! They trusted us to take care of their dental treatments, and came from all over the world to do so. The main reason? Well, they saved a lot of money and got completely professional results!
Kervenz | 20 Porcelain Veneers
We're really good at what we do and our prices are much more affordable than other places. That's why we're always busy with patients from all over the world who come to us seeking that perfect smile. And the truth is, we don't disappoint! We provide personalized care and focus on each individual patient to ensure they receive the right treatment and the results they're looking for.
Sophie | 20 Porcelain Veneers
Whether you want to improve your smile or correct a dental problem, our highly skilled and experienced team is here to help you achieve your goals. We use state-of-the-art technology and always keep our focus on you, the patient. So if you want incredible veneers, come to Colombia and let us take care of your smile!
5 Reasons to get your teeth done in Colombia:
Affordability: Compared to many other countries, dental treatments in Colombia are often much more affordable. This means you can save money while still receiving high-quality care.
Quality of care: Colombia has a well-established reputation for providing top-notch dental care. Many dentists in Colombia are highly skilled and experienced, and use the latest technology to deliver outstanding results.
Accessibility: Colombia is easily accessible from many parts of the world, with a number of international airports and direct flights available. This makes it a convenient destination for dental tourism.
Beautiful country: Colombia is a beautiful country with a rich culture and history. Many dental clinics are located in or near major tourist destinations, allowing you to enjoy your trip while also taking care of your dental health.
English-speaking dentists: Many dentists in Colombia are fluent in English, making it easy for international patients to communicate effectively and feel comfortable during their treatment.
Overall, getting your teeth done in Colombia can be a smart choice for those seeking affordable, high-quality dental care in a beautiful and accessible destination.
Ashanti | 20 Porcelain Veneers
Dorothy | 20 Porcelain Veneers
To sum it up, if you're looking for a cost-effective way to achieve a stunning new smile with veneers, then Colombia should be at the top smiles of your list. With its highly skilled and experienced dentists, use of advanced technology, and reputation for delivering exceptional dental treatments, you can trust that you'll receive high-quality care. Plus, Colombia's accessibility, beautiful scenery, and English-speaking dentists make it an attractive destination for dental tourism. So, if you're considering veneers as a solution for your dental needs, don't hesitate to come to Colombia and experience the best dental care at an affordable price.