Medellin, in addition to being a city recognized for having the best cosmetic dentists and rehabilitators, is the largest cosmopolitan center in Colombia, it is an exotic, multicultural, warm city and you can take a wonderful experience of dental tourism in the company of our assistants in charge of pick you up and take you everywhere.
In today's society there is great interest in health care and physical appearance, smiling not only improves your appearance, but also provides multiple health benefits, reduces stress, improves skin, helps reduce coronary heart disease, supports the immune system, balances mood and lengthens life.
You
are probably missing out on these benefits by hiding your smile, at Veneers Colombia we invite you to learn about the smile design technique and all the benefits it offers so that you can change the current appearance of your teeth and feel more confident when showing your dream smile.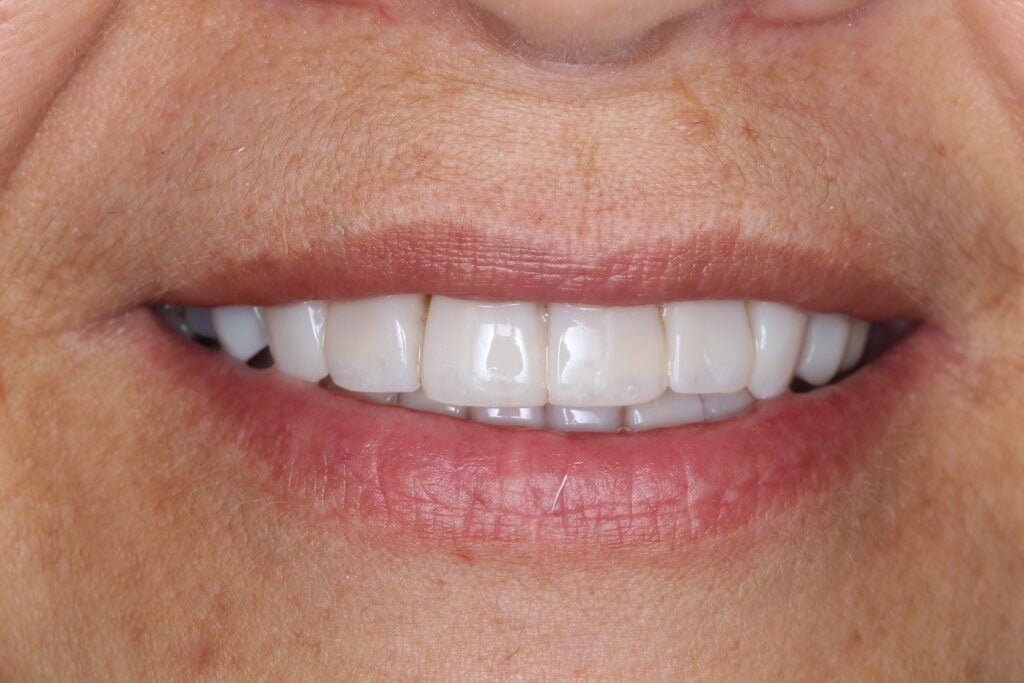 Composite aka Bonding veneers
BONDING veneers are performed in the office with highly esthetic composite resin and are usually done in a single appointment. Composite resins are a synthetic material initially developed to replace metal restorations ("metal shims" or amalgams) and which have evolved improving their properties.
The resins have several advantages such as offering good aesthetics; can be done in a single appointment; its cost is generally lower than ceramic restorations and it can be easily repaired and modified. However, they have certain disadvantages, since over time they can lose their shine and polish becoming dull, they can become pigmented with certain foods and / or drinks; can be delaminated or fractured and are conceptually less resistant than ceramics.
2 days procedure in the dentist office.
Last between 5 to 7 years .
Requires maintenance every year with your personal dentist.
Composite veneers are cheaper than Porcelain Veneers.
Ceramic or porcelain veneers
Are thin adhesive restorations, which are performed in two or more dental appointments, since the intervention of the dental laboratory is required for their preparation. These restorations are considered minimally invasive, as it is generally not necessary to wear down the tooth.
Ceramic veneers have more advantages than resin veneers, as they have better aesthetic properties; they are highly resistant to fractures; they have a higher survival and success rate. They do not pigment, they do not lose their polish, shine and color.
However, they also have certain disadvantages such as the need for several appointments, they are more expensive than resin veneers and if necessary, they are more difficult to repair.
Currently, the material of choice for the production of ceramic veneers or lenses is Lithium Disilicate.
If the patient needs or wants to have veneers, the best advice is to think of the treatment as a long-term investment in oneself, in our own appearance and our own smile.
2-7 Days procedure of laboratory.
More expensive than composite veneres
Doesn´t need maintenance
Last betweeen 15 to 20 years.
Minimal tooth sanding 2 mm
If you are interested in porcelain veneers, fill out the consultation form here
we will be happy to help you.
Cost of veneers in Colombia
| | |
| --- | --- |
| COMPOSITE VENEERS (per tooth) | PORCELAIN VENEERS( per tooth) |
| $ 190 | $ 350 |
| 1 day procedure | 5 Days procedure of lab. |
| Painless | Painless |
| Best Quality | Best Quality |
ABOUT DENTAL CROWNS IN MEDELLIN – COLOMBIA
The part of the tooth visible in the mouth is known as the crown. As it is used to eat it is essential that it be strong and hard. Depending on the case, it can be natural or artificial. The latter, which is placed on a tooth or dental implant, is ideal for those who have problems in some of their teeth. And it is that, they play an important role in the aesthetic recovery processes and return to the patient the maximum functionality in the chewing processes. At VENEERS COLOMBIA we explain what their types are so that, if you need any, you can choose the most suitable one together with the dentist.
Before knowing its classification, it is important that you bear in mind that this procedure is carried out on the molars and premolars, since they are the parts that suffer the most over the years. These are necessary in cases like the following:
When a tooth has excess reconstruction material and little remaining healthy tooth tissue.
In worn, weak, broken or very dark colored teeth.
When an aesthetic requirement is required, in terms of shape and size.
When placing an implant.
Types of artificial dental crowns
Artificial crowns differ, mainly, by the materials with which they have been manufactured. In this sense, the most common are the following:
Metal-porcelain crowns. They are made of metal (inner part) and porcelain coated (outer part). They are usually placed on back teeth, to prevent the metal from being seen through the gums. Their main advantage is that they are resistant.
Zirconium crowns. Being a material capable of withstanding daily wear and tear, they are resistant. Also, light and aesthetic, since they are translucent and reflect light in the same way as a natural tooth. It is an excellent option for those patients who may develop allergies or adverse reactions.
Metal crowns. They are made of gold, palladium, nickel or chromium. Although they are long-lasting, these days they are not widely used.
Porcelain crowns. They are used to restore the aesthetics of the anterior teeth. And this is the one that provides the best combination of natural colors. However, they are more fragile than metal-porcelain or zirconia, for example. For those patients who have Oralprima dental insurance, undergoing this treatment usually costs 50% less than usual.
Resin crowns. Being a soft material, they are usually used temporarily. They are ideal for protecting teeth that have been carved in the period between measurements and cementation of the dental crown.
Artificial dental crowns must be placed by an expert, since the natural teeth have to be "carved" first and then the artificial caps that mimic the appearance of teeth must be placed on them.
DENTAL CROWNS

Metal Ceramic

$ 430

Porcelain

$ 520

Zirconia

$ 590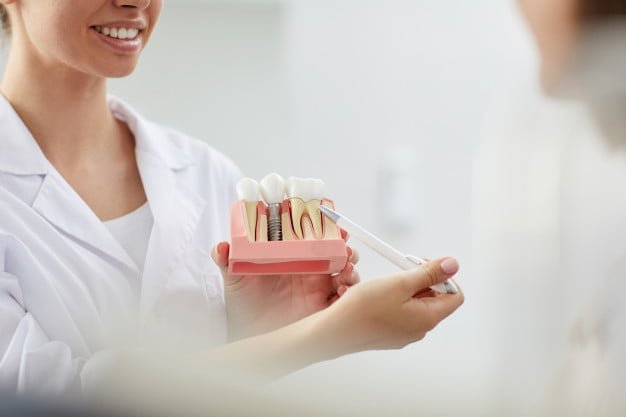 How do bridges work?
If you are missing one or more teeth, your dentist will recommend a bridge. The gaps between the missing teeth cause the remaining teeth to rotate or shift into the gaps over time, causing an inappropriate bite. The imbalance caused by missing teeth can also lead to gum disease and temporomandibular joint (TMJ) disorders.
Bridges are often used to replace one or more missing teeth, occupying the space left by them. The dentist cements the bridges to the natural teeth or to the implants that surround the empty space. These teeth, called abutments, serve to anchor the bridge. Then you attach a replacement tooth (in the missing space), this tooth is called a pontic, and it is attached to the crowns that cover the abutment teeth. As with crowns, there are various materials for bridges. Your dentist can help you decide which one to use, based on the location of the missing tooth or teeth, its function, cosmetic considerations, and cost. The color of porcelain or ceramic bridges is matched to that of your natural teeth.
How
are crowns and bridges made?
Before making a crown or bridge, the dentist must reduce the size of the tooth or teeth so that the crown or bridge will fit properly over it. The dentist will then take a dental impression to provide an exact mold for the crown or bridge. If you are using porcelain, the dentist will determine the correct stain so that the color of the crown or bridge matches that of your teeth.
Using this impression, a dental laboratory makes your crown or bridge from the material specified by the dentist. While the permanent crown or bridge is being performed, a temporary crown or bridge will be placed to cover the prepared tooth.
How long do crowns and bridges last?
While crowns and bridges can last a lifetime, they sometimes loosen or come off. The most important step you can take to ensure the longevity of your crown or bridge is to practice good oral hygiene. If the teeth or bone that support a bridge are damaged by dental disease, the bridge will lose support. Keep your gums and teeth healthy by brushing with a fluoride toothpaste at least twice a day, using the dental dam and mouthwash daily. Also consult the dentist and the hygienist periodically for check-ups or professional controls and cleanings.
To prevent damage to your new crown or bridge, avoid chewing hard food, ice, or other hard objects.
When the permanent crown or bridge is ready, you will remove the temporary crown or bridge and cement the new one to the prepared tooth.