Complete Guide for: Porcelain Veneers in Colombia
Quality affordable Veneers in Colombia
Porcelain veneers are thin shells made of porcelain material that are placed on the front surface of teeth to improve their appearance. They are custom-made to fit each individual tooth and are bonded to the teeth using a strong adhesive.
Characteristics of porcelain veneers:
Here are some common characteristics of porcelain veneers, explained in a shorter and simpler way:
Natural appearance: Porcelain veneers are designed to look like natural teeth, customized to match the color and shape of existing teeth.
Durability: Porcelain veneers are made of strong and durable material that can withstand normal chewing forces.
Stain resistance: Porcelain used in veneers is resistant to stains from food and drinks.
Low maintenance: Porcelain veneers require the same maintenance as natural teeth, such as daily brushing and flossing, and regular dental check-ups.
Minimally invasive: The procedure to place porcelain veneers requires minimal preparation of the tooth surface and involves removing a small amount of enamel to place the veneer.
It's important to note that porcelain veneers may not be suitable for everyone, and it's recommended to consult with a dentist to determine if they are the right option for individual needs.
Porcelain Veneers Features
They are durable, stain-resistant, and custom-made to match the color and shape of natural teeth, resulting in a natural-looking smile. Additionally, porcelain veneers require low maintenance, and the process of getting them typically involves minimal tooth preparation.
 

Cost
Affordable
Shorter Process
5 – 6 days
Esthetic
more natural appearance
Shave
2 millimeters
Maintenance
Does not require maintenance
Lifespan
15 – 20 years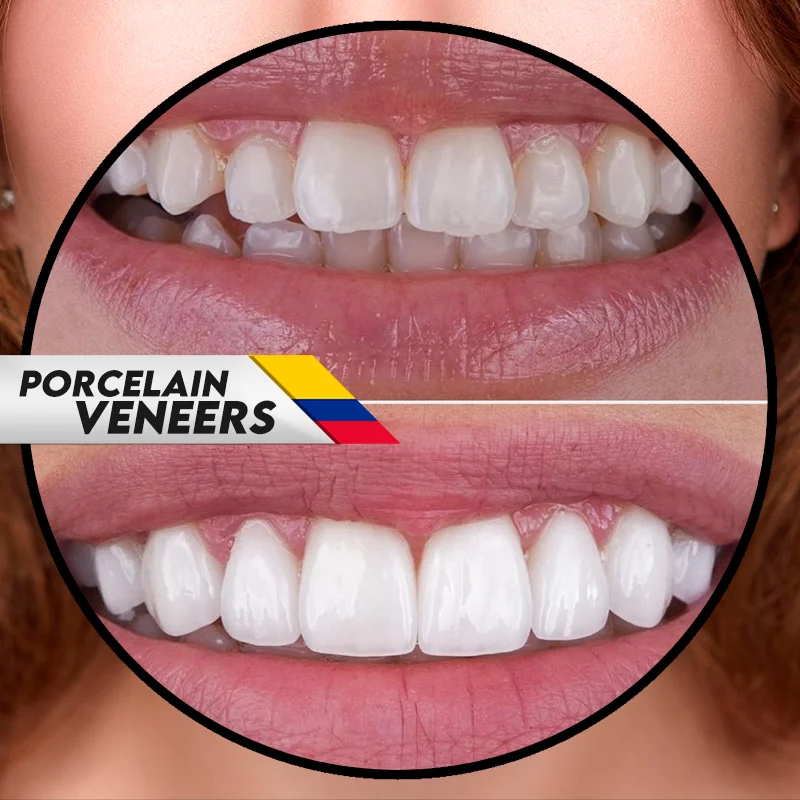 The porcelain veneers process involves the following steps
Consultation: You meet with a dentist to discuss if porcelain veneers are right for you and to determine the desired outcome.
Preparation: The dentist removes a thin layer of enamel from the teeth and takes impressions of your teeth, which are used to make custom veneers.
Bonding: The custom-made veneers are bonded to the front of the teeth with a special adhesive.
Final Touches: The dentist makes final adjustments to ensure a perfect fit and appearance.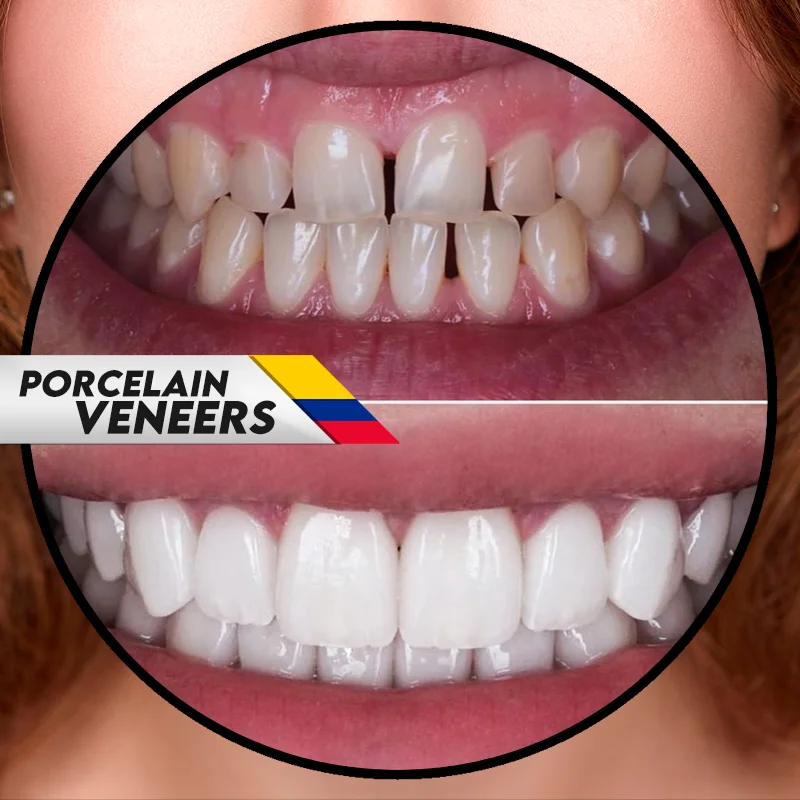 Who is not good candidate for porcelain veneers?
Patients with significant decay, gum disease, or teeth grinding issues may not be good candidates for porcelain veneers. Additionally, those with limited tooth enamel or who require major orthodontic work may not be good candidates. It is important to consult with a dental professional to determine if porcelain veneers are a suitable option for an individual's specific dental needs.
Alternative to Porcelain Veneers:
How to take care of the Porcelain Veneers?
Taking care of your porcelain veneers is important to ensure they last as long as possible. Here are some recommendations to help you care for them:
Maintain good oral hygiene: Brush your teeth twice a day and use floss to remove any food particles or plaque buildup.
Avoid foods and drinks that can stain your veneers: Examples include coffee, tea, red wine, tomato sauce, and carbonated drinks.
Do not use your teeth to open objects or bite into hard things: This can damage your porcelain veneers and even cause them to come loose.
Consider using a mouthguard: If you play contact sports or tend to grind your teeth while you sleep, a mouthguard can help protect your veneers.
Schedule regular dental checkups: Your dentist can assess the health of your veneers and detect any issues early on.
Remember, while porcelain veneers are durable, they are not indestructible. If you have any questions or concerns about how to care for your veneers, don't hesitate to ask your dentist.
What is the cost of get Porcelain Veneers in Colombia?
Looking to transform your smile with porcelain veneers? Colombia might just be the destination for you! With costs averaging between $500 to $1,500 per veneer, you could save significantly compared to the United States, where prices can range from $800 to $2,500 or more. Plus, with skilled and experienced dentists and a reputation for quality dental care, you can rest assured that you'll be in good hands. So why not consider taking a dental vacation to Colombia to get the beautiful, natural-looking smile you've always dreamed of?
| Country | Average Cost per Veneer |
| --- | --- |
| Colombia | $340 – $440 |
| United States | $800 – $2,500 or more |
As you can see, the cost of porcelain veneers in Colombia can be significantly less expensive than in the United States. While exact costs may vary depending on location, the dentist's experience, and the number of veneers needed, opting for treatment in Colombia can be an excellent option for those seeking high-quality dental care at an affordable price.
Get a beautiful smile for under $7000 with us! We offer affordable and effective treatment options to transform your smile. Contact us today to schedule a consultation with our cosmetic dentistry experts!
Other faqs about porcelain Veneers in Colombia
Discover the factors that make Colombia an ideal destination for your journey to a picture-perfect smile.
Porcelain veneers are a popular and effective option for correcting a wide range of cosmetic dental issues, from stains and discoloration to chips and fractures. With many dentists offering this treatment, it's important to choose an experienced and trusted provider to ensure a satisfying and long-lasting result. Keep in mind that costs can vary depending on location and provider. However, the benefits of porcelain veneers are clear: a stunning, confident smile that can boost your self-esteem and improve your overall appearance. Get ready to show off your new smile today!
Get a Free Quote for Veneers today!
By choosing to get your porcelain veneers in Colombia, you'll not only save money but also receive world-class treatment and care. Our dental professionals use the latest technology and techniques to ensure that you receive high-quality porcelain veneers that are both durable and natural-looking.