Celebrity smiles have a special sparkle, don't they? Even amidst the most crowded red carpet, they stand out, dazzling and flawless, capturing everyone's attention and stealing the show. But have you ever wondered what's the secret behind those radiant smiles? More often than not, the unsung hero behind the scenes is dental veneers treatment.
Much like his contemporaries, Chris Rock had his own share of insecurities, particularly regarding his appearance. His most profound concern revolved around his uneven teeth, which, in his perspective, created an inverted V shape. However, we see no reason for such insecurities. His dental veneers have greatly enhanced his smile, and they look truly remarkable!
Dental veneers, also known as veneers, are thin layers of porcelain or resin that are bonded onto the tooth surface to enhance their appearance. Not only can they transform stained or discolored teeth into shining white pearls, but they can also correct issues like crooked, broken, or worn-out teeth. A surprising number of celebrities, those with some of Hollywood's most enviable smiles, have turned to veneers to achieve their dental perfection.
Morgan Freeman is undoubtedly renowned for his captivating voice, a characteristic that often overshadows his other attributes. Nevertheless, Freeman has undertaken considerable dental enhancement, primarily through the use of veneers. These have not only gifted him with a radiant smile, but they also contribute to a more youthful appearance!
Tom Cruise, for example, started his career with a notably crooked smile. Through the use of veneers, he has acquired a dazzling smile that has lit up numerous box-office hits. Music superstar, Miley Cyrus, too turned to veneers to transform her Disney girl smile into a glamorous pop diva dazzle. Even award-winning actor Morgan Freeman opted for veneers to align and brighten his smile, showing that it's never too late to upgrade your smile.
And it's not just film and music superstars who have seen the benefits of veneers. Celebrities from diverse fields, from rapper 50 Cent to reality show star Nene Leakes, have invested in their smile with veneers. The outcome has been a dramatic enhancement in their appearance, confidence, and, of course, red carpet photogenicity.
But what does this mean for you? Well, the truth is, you don't need to be a celebrity to have a celebrity smile. Here at our clinic in Colombia, we offer top-quality veneers treatments at a fraction of the cost you might expect to pay in places like Los Angeles or New York. For less than $7000 dollars, you can have the same treatment as the stars and wear a red carpet-worthy smile.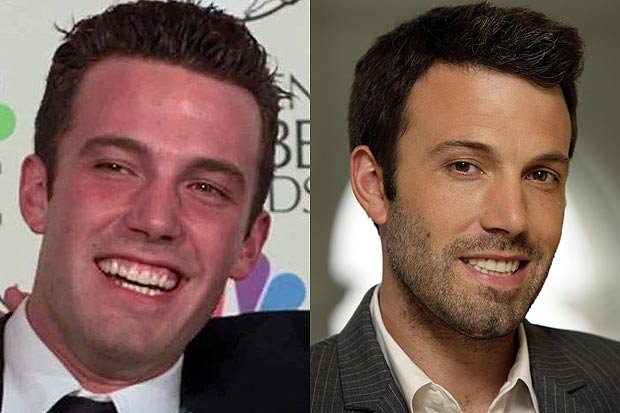 By working with our expert dentists, you'll be able to design your new smile, choosing the color, shape, and size of your veneers to suit your features and aesthetic goals. We use only the highest quality materials to ensure that your veneers look natural and are long-lasting. With proper care, your veneers can last up to 15 years or more, making this an investment in your long-term confidence and happiness.
Don't let cost keep you from having the smile of your dreams. With our flexible financing options, we even offer payment plans so that you can spread the cost of your treatment over time.
Seize the opportunity to have a dazzling smile that makes you feel like a movie star every day. Contact our clinic today to schedule a consultation and find out how veneers can transform your smile. You don't have to walk a red carpet to deserve a celebrity smile, and we're here to help you achieve it.
Hollywood Smiles: 20 Celebrities Who Opted for Veneers
1. Tom Cruise: This Hollywood actor had crooked teeth before getting veneers.
2. George Clooney: The actor needed to fix his teeth due to his teeth grinding habit.
3. Catherine Zeta-Jones: This famous actress has a bright smile thanks to veneers.
4. Nicholas Cage: The actor got veneers in the 80s to improve his smile.
5. Demi Moore: The Hollywood actress opted for veneers to get a perfect smile.
6. Ben Affleck: Affleck transformed his smile significantly with the help of veneers.
7. Miley Cyrus: The singer and actress decided to improve her Disney girl smile to a more glamorous one with veneers.
8. Victoria Beckham: The former Spice Girl and fashion designer opted for veneers after being known for not smiling too often.
9. Hilary Duff: The actress underwent veneers treatment after damaging her tooth at a concert.
10. Zac Efron: The High School Musical actor decided to opt for veneers for a more symmetrical smile.
11. 50 Cent: The rapper got veneers to improve his smile.
12. Morgan Freeman: The acclaimed actor opted for veneers to help align and lighten his smile.
13. Mike Tyson: The former professional boxer decided to enhance his smile with veneers.
14. Cardi B: The rapper decided to invest in her smile with veneers.
15. Chris Rock: The comedian decided to enhance his smile with veneers after one of his movies hit success.
16. Vince Neil: The Mötley Crüe frontman got veneers to revamp his smile.
17. Cheryl Cole: The singer and talent show judge decided to invest in her smile with veneers.
18. Katy Perry: The pop singer decided to improve her smile with veneers.
19. Gary Busey: The actor, after his motorcycle accident, had to resort to veneers to restore his smile.
20. Nene Leakes: The star of "The Real Housewives of Atlanta" decided to opt for veneers for a brighter smile.
Remember, while celebrities often turn towards veneers to have "Hollywood" smiles, there are also many options to enhance your smile depending on your specific needs and goals.