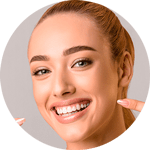 At VeneersColombia, we take pride in helping many patients transform their smiles and improve their confidence and self-esteem. On our website, you can find a selection of before and after cases of patients who have trusted us to enhance their dental appearance and achieve a beautiful, natural-looking smile. 
Porcelain veneers are a popular choice for patients seeking a complete smile makeover. Our before and after photos showcase the transformative power of porcelain veneers. Say goodbye to stained, chipped, or misshapen teeth and hello to a straight, white, and natural-looking smile. 
It may be interesting for you:
Choosing Your Veneer Color
Composite veneers offer a more affordable alternative to porcelain veneers, without sacrificing quality. Take a look at our before and after photos to see how composite veneers can close gaps between teeth and create a more even and balanced smile.
The transformation that veneers can achieve is truly remarkable, and our before and after photos speak for themselves. Don't let stained, chipped, or misshapen teeth hold you back any longer. Contact us today to schedule a consultation and discover the power of veneers before and after.
Are you struggling with stained or uneven teeth? Do you feel self-conscious about your smile? A smile makeover with Veneers is the solution you've been looking for! At Before and After, we understand that every patient is unique, which is why we offer personalized solutions using porcelain or composite veneers. The aesthetic and psychological benefits of a smile makeover are undeniable, and you'll be amazed at the transformation. Don't hesitate – plan your trip to Medellin, Colombia today and let our expert dentists in smile design work their magic. Our prices are a fraction of what you'd pay in the United States, so you can achieve a stunning new smile without breaking the bank. Experience the power of Veneers before and after – you'll never look back! We are in Medellín, this is the favorite city of international tourists, due to the weather and great variety of things to do, it is also the second largest city in the country and has several direct flights from the United States.